In this last article, I want to go over the rest of the cards, as well as give a few pointers on the set and make my prerelease recommendations. If you're looking for the other colors, you can find them here: white, blue, black, red, and green. Prerelease recommendations are toward the bottom of the article.
The Clans of Khans
I think for the most part, you will want to be three colors in Khans Sealed. Many of the multicolor cards are quite powerful, and they are fairly easy to cast with an evenly-split manabase and three to four fixers. If you don't get any good on-color fixing in your pool, it may be worth looking into playing a two-color deck with a splash, such as a base blue-green deck splashing red for a Savage Knuckleblade, Mardu Heart-Piercer, and two or three other red cards. Meanwhile, if you have an abundance of good lands, feel free to make a four- or five-color removal & bombs brew.
Let's take a look at all the gold cards and see how much power they bring to the table. Note that my pairings of enemy-colored guilds to three-color clans (such as pairing Orzov with Abzan) are totally unrelated to any gameplay: The Orzhov cards could just as easily go with Mardu.
Abzan & Orzhov
Abzan has some of the most powerful rares and uncommons of any of the clans. The plan? Huge dudes. I'm very drawn to the opportunity to open cards like Siege Rhino and Ivorytusk Fortress.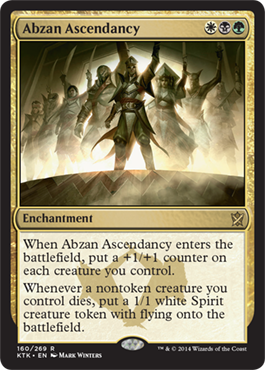 Abzan Ascendancy
All the Ascendancies are very good, and Abzan Ascendancy is one of the sweeter ones. It's pump ability is a little worse than Glorious Anthem since it can't pump creatures that enter the battlefield after the fact, but it's still pretty powerful. Having the boost come in the form of counters has an added dimension in Abzan, where many of the creatures get bonuses from being buffed up. Also the second ability is great, and is probably the primary payoff for running this card. Getting free 1/1 fliers when you trade in combat or eat removal spells can really add up.
Rating: 3.5