Black's Worst Fears Realized in Journey into Nyx
It looks like black's stock may have dropped slightly with Journey into Nyx. Gone is another pack of Gray Merchants and Pharika's Cures, replaced by a smattering of conditional removal spells and more of black's traditionally waifish creatures. There are still plenty of tools though, and black figures to get an interesting aggro twist with Bloodcrazed Hoplite as a heroic option.
The best black commons are comparable to the mid-level commons in other colors, which is pretty unfortunate. The best of them are Pharika's Chosen and Bloodcrazed Hoplite, two cheap creatures that serve very different roles. Feast of Dreams is also a tantalizing removal option that is very narrow, but devastating when it works.
Black's uncommons lack any particular bombs, but are fine. The best are Spiteful Blow and Felhide Petrifier. Petrifier especially seems like a powerful thing to be doing on three mana, and interacts well both with bestow and against bestow.
Check out our set review rating scale, then onto some reviews!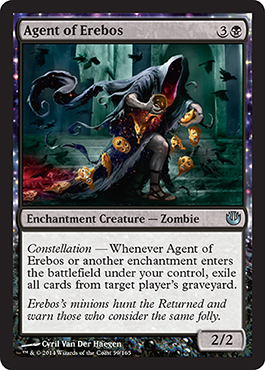 Agent of Erebos
There are so few graveyard synergies in this format that it's impossible to think of a reasonable scenario (a deck with four Commune with the Gods, two Nemesis of Mortals, and two Graverobber Spider?) where this ability is good.
Usually this is just a 2/2 for four, which is so inefficient that it's often just not playable (an 18th land might be better). It is an enchantment, so maybe you can find enough constellation cards to make this worth running. Or maybe you need to bring it in as a way to block a Forlorn Pseudamma. Otherwise it's fairly weak.  Read more