Green in Khans seems to be doing what it usually does: providing an array of above-average bodies that should form the basis of a consistent Sealed deck. The best common is actually probably Savage Punch, although Hooting Mandrills is not far behind. The commons are good enough that the uncommons don't even really stand out, but Heir of the Wilds is certainly a nice card.
If you haven't, take a look at our ratings system (I'm evaluating these cards strictly on how they will perform at the prerelease, so you can ignore Draft and Constructed ratings) and check out the ratings for white, blue, black and red.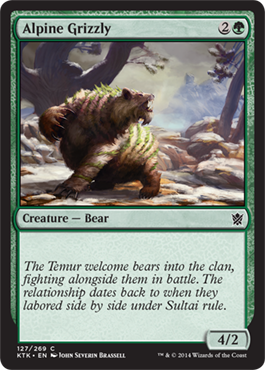 Alpine Grizzly
This isn't as good as Nessian Courser would've been, but it's still quite efficient. If your opponent stumbles or you're able to remove his first blocker, Alpine Grizzly can lay down a beating in a hurry. Two toughness means this isn't going to dominate the battlefield, but having a solid dork to enable ferocious and beat down big blockers is always good.
Rating: 2.5